Tags: Communication, Course Protocol, Email, Interaction, Large Classes
Description
The concept of "Three Before Me" pushes the responsibility of locating an answer to commonly asked questions to the student. The student must prove to the professor that he/she has contacted three different sources prior to contacting the professor.
Link to example artifact(s)
If you have questions regarding the material, assignments, technical issues, and/or other related matters concerning the course, you must take the initiative to find the answers. The "Three-Before-Me" rule is simply this: You must prove that you have sought out at least three avenues to obtain information regarding a question or problem you are having before you can ask me. There are discussion postings (Technical Questions, Student Lounge), chat rooms, e-mail, an FAQ page, The Online@UCF Support (https://cdl.ucf.edu/support/) and other avenues available online to you to locate the answers you need. Use them! Many of your fellow students may already know how to resolve your issue. Ask them! I will not respond to questions before you prove that you have met the "Three-Before-Me" rule. I will also not respond to questions that have already been answered. Chances are, someone in the class may have had the same question you do. Use the tools available to you to find out.
Dr. Bernardo Ramirez, from the University of Central Florida uses an image in his courses to implement the "Try 3-Before me!" idea: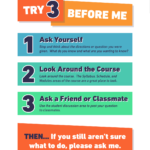 Dr. Robert Szymanski integrated the Three Before Me Rule in his course syllabus:
Instructor: Dr. Robert Szymanski
Course: ISM3011 – Management Information Systems
Example protocol from Dr. Robert Robert Szymanski
Link to scholarly reference(s)
Pate-Vain, H., Achilles, C.M., Boyd-Zaharias, J.,  & McKenna, B. (1992). Class size does make a difference. Phi Delta Kappan, 74(3), 253-56. http://www.eric.ed.gov/ERICWebPortal/detail?accno=EJ452826
Strategies for teaching large classes. (2009). Faculty Focus. https://www.facultyfocus.com/articles/effective-teaching-strategies/teaching-large-classes-strategies-for-managing-large-lecture-courses/
Citation
Phillips, W.,
&
Chen, B.
(2015). Use three-before-me as a communication strategy in a large class. In B. Chen & K. Thompson (Eds.),
Teaching Online Pedagogical Repository
. Orlando, FL: University of Central Florida Center for Distributed Learning.
https://topr.online.ucf.edu/three-before-me/
.
Post Revisions:
November 28, 2022 @ 13:21:01 [Current Revision]