Tags: Blog, Interaction, Social Media, Student Centered
Description
Instructor: UCF's Ms. Debbie Kirkley
Course Title: EME5208 Production Techniques for Instructional Settings
Instructor Testimony
UCF education professor Debbie Kirkley uses student blogs to fulfill the requirement of students to keep a journal throughout the semester to reflect on course projects and their experiences. The benefits of using this type of blog are as follows:
Provides authentic learning opportunities: Create user generated content
Motivation
Ease of use
Integrate links, videos, other web resources
Increase interaction and collaboration – comments, peer review
Students practice technology skills that will directly transfer into future work settings
Link to example artifact(s)
Explore a student example from Debbie Kirkley's class: http://lulamurple.blogspot.com/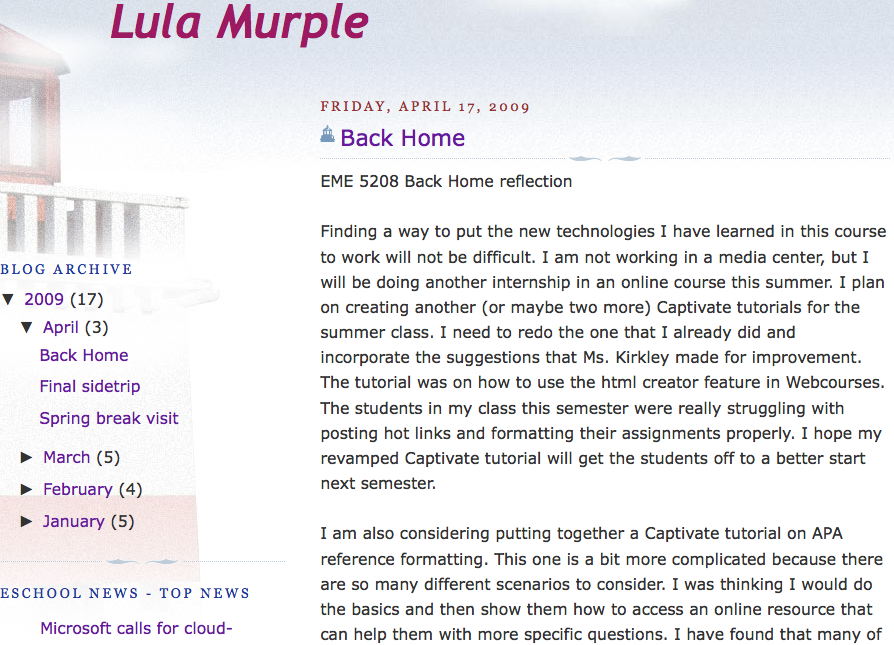 Link to scholarly reference(s)
Citation
Seilhamer, R. & Chen, B. (2015). Blog as a reflection tool. In Chen, B., deNoyelles, A., & Thompson, K. (Eds.),
Teaching Online Pedagogical Repository
. Orlando, FL: University of Central Florida Center for Distributed Learning. Retrieved June 6, 2020 from
https://topr.online.ucf.edu/blog-as-a-reflection-tool/
.
Post Revisions:
March 2, 2018 @ 16:57:53 [Current Revision]