Tags: Critical Thinking, Discussion, Facilitation, Rubric, Social Connection
Description
Supporting college students to develop critical thinking skills is an overarching goal in higher education. Students with developed critical thinking skills have the ability to evaluate their own arguments as well as others, resolve conflicts, and generate well-reasoned resolutions to complex problems (Behar-Horenstein & Niu, 2011). Given that there is an exponential increase in the information and knowledge being generated, possessing critical thinking skills fulfills the goal of nurturing students to become responsible citizens in a complex society.
According to a national survey, nearly a third of all higher education students in the United States took at least one course online in 2012 (Allen & Seaman, 2013). Online discussions are often used to encourage students to critically think and engage with one other (Cox & Cox, 2008). However, mixed findings have been found about the effectiveness of online discussions in stimulating critical thinking (Celentin, 2007; Darabi, Arrastia, Nelson, Cornille, & Liang, 2011). In addition, the "limited responsiveness and interactivity found in many online discussions suggests a lack of attention to the ideas of others" (Wise, Speer, Marbouti, & Hsiao, 2013, p. 324). Several elements have been identified in previous research that guide an effective online discussion, namely requiring student participation, offering structured prompts (such as debate or problem-based), and providing prompt but modest instructor facilitation (see deNoyelles, Zydney, & Chen, 2014). It is advised to simultaneously utilize these strategies to form a guided approach in order to support students to not only critically think, but meaningfully engage with one another as well.
Link to example artifact(s)
Instructor: Rohan Jowallah, Instructor, African-American Studies, College of Arts and Humanities, UCF
Course Title: AFA3102 – Introduction to Africana Studies
This discussion was designed to allow students to develop critical thinking in relation to contemporary issues within the African American community. In the designed the instructor used a video to make social connections to motivate and sustain students' participation in the online discussion. A description of the discussion requirements was given to students. In the description, advance guidance was provided to ensure students engaged critically. A detailed rubric (Figure 1) was provided that gave students specific areas that would be considered for grading. All three artifacts (discussion brief) [Figure 2], video [Figure 2] and rubric included within the discussion, were aimed at encouraging critical thinking and responses within the online learning environment. For the design of this discussion, the instructors considered Gao et al. (2009) model of discussion called "Productive Online Discussion". By using this model, the instructors were able to give consideration to components for improved understanding of course content, development of critical thinking skills, construction of knowledge and the sharing of knowledge. The results from the strategy suggest instructors must take time to design discussions which make connections to social/contemporary issues as well as provide guidance that will elicit and encourage critical thinking. A student sample is provided in Figure 3.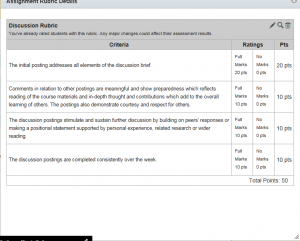 Figure 1 Discussion Rubric
Link to scholarly reference(s)
Allen, I. E., & Seaman, J. (2013). Changing course: Ten years of tracking online education in the United States. Babson Park, MA: Babson Survey Research Group and Quahog Research Group. Retrieved from http://www.onlinelearningsurvey.com/reports/changingcourse.pdf
Behar-Horenstein, L.S., & Niu, L. (2011). Teaching critical thinking skills in higher education: A review of the literature. Journal of College Teaching & Learning, 8(2), 25-41.
Celentin, P. (2007). Online education: Analysis of interaction and knowledge building patterns among foreign language teachers. The Journal of Distance Education, 21(3), 39-58. Retrieved from http://www.jofde.ca/index.php/jde/article/view/29/35
Cox, B., & Cox, B. (2008). Developing interpersonal and group dynamics through asynchronous threaded discussions: The use of discussion board in collaborative learning. Education, 128(4), 553-565.
Darabi, A., Arrastia, M. C., Nelson, D. W., Cornille, T., & Liang, X. (2011). Cognitive presence in asynchronous online learning: A comparison of four discussion strategies. Journal of Computer Assisted Learning, 27(3), 216-227.
deNoyelles, A., Zydney, J., & Chen, B. (2014). Strategies for creating a community of inquiry through online asynchronous discussions. Journal of Online Learning and Teaching, 10(1), 153-165. Retrieved from http://jolt.merlot.org/vol10no1/denoyelles_0314.pdf
Gao, F., Zhang, T., & Franklin, T. (n.d). Designing asynchronous online discussion environments: Recent progress and possible future directions. British Journal Of Educational Technology, 44(3), 469-483.
Wise, A., Speer, J., Marbouti, F., & Hsiao, Y. (2013). Broadening the notion of participation in online discussions: Examining patterns in learners' online listening behaviors. Instructional Science, 41, 323-343.
Citation
Rohan Jowallah and Aimee deNoyelles (2014). Using a guided approach to support critical thinking in online discussions. In Chen, B., deNoyelles, A., & Thompson, K. (Eds.),
Teaching Online Pedagogical Repository
. Orlando, FL: University of Central Florida Center for Distributed Learning. Retrieved September 15, 2019 from
https://topr.online.ucf.edu/using-a-guided-approach-to-support-critical-thinking-in-online-discussions/
.
Post Revisions:
There are no revisions for this post.