Tags: 360 video, course content, immersive video, Peer-Reviewed Entry, study abroad, virtual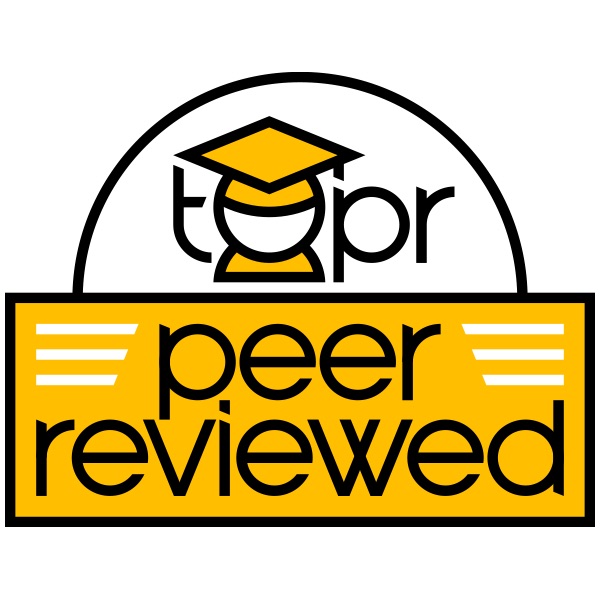 Description
Study abroad experiences are known to benefit students in numerous ways, including personal development (Luo & Jamieson-Drake, 2015), cultural appreciation (Holtbrugge & Engelhard, 2016) and professional growth (Kronholz & Osborn, 2016). Citing 2020 as a "turning point around which education abroad was transformed," leaders in the field recognized the need to pioneer new options, including online learning (Dietrich, 2020, p. 6). Accordingly, when pandemic-related travel bans eliminated in-country study abroad opportunities for countless college students, an innovative educational alternative was born – virtual study abroad (VSA).
In essence, VSA incorporates online learning technologies to replicate key elements of the traditional study abroad experience (e.g., cultural immersion, academic instruction, cross-cultural interactions), leading to equivalent learning outcomes. One such technology is 360' video (a/k/a "immersive video"),– a type of video that has been recorded in all directions to provide a 360' view. Although special headsets are available for a more immersive experience, 360' videos may be watched on a computer or mobile device.
Using 360' videos to provide cultural immersion in VSA courses is an effective way to enable students to explore important historic, geographic, and educational sites that would otherwise be inaccessible. Not surprisingly, current literature suggests that using this tool, especially with the viewing headsets, garners improved immersion, presence, and increased attention (Ferdig & Kosko, 2020).
Link to example artifact(s
Grounded by the pandemic, Edwards and Strick transformed their planned study abroad program, "Luxury Management in Italy" for 100% online delivery in May 2020. To closely replicate the site visits students would have experienced in-country, the instructors relied on 360' videos as an important part of providing students with a rich travel alternative. Based on the success of the pilot program, they now offer the VSA version of the course annually.
Here is a sampling of 360'video resources that are freely available online:
Below is a screenshot from the Learning Management System showing a typical day's itinerary and 360' tours from the Luxury Management in Italy VSA course: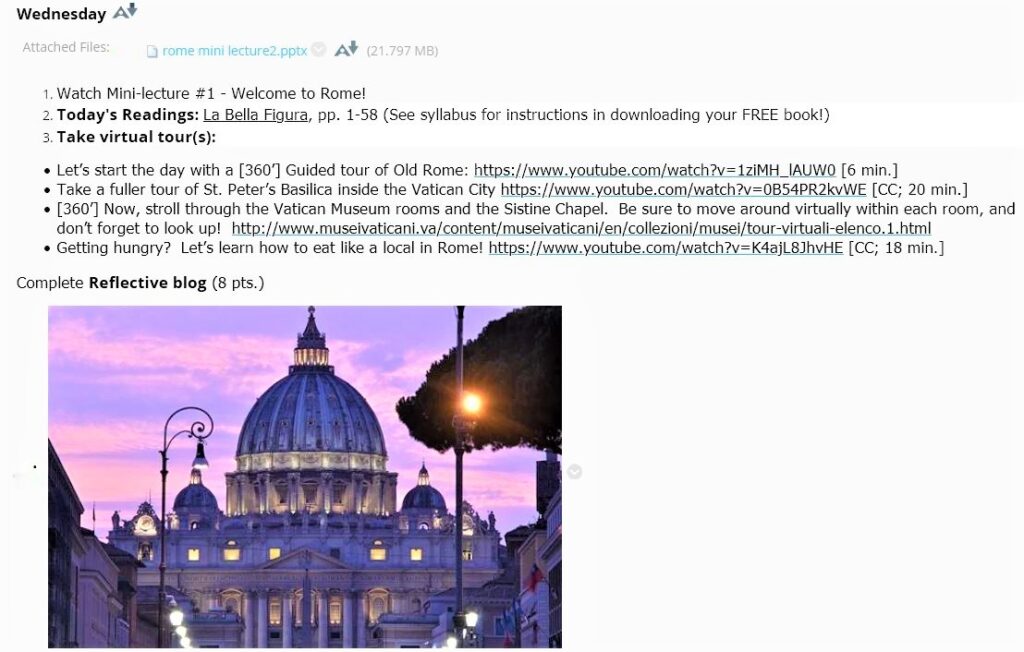 Link to scholarly reference(s
Ferdig, R.E., & Kosko, K.W. (2020). "Implementing 360 video to increase immersion, perceptual capacity, and teacher noticing," TechTrends, 64(June), 849–859.
Holtbrugge, D. & Engelhard, F. (2016). "Study abroad programs: Individual motivations, cultural intelligence, and the mediating role of cultural boundary spanning," Academy of Management Learning & Education, 15(3), 435–55.
Kronholz, J.F. & Osborn, D.S. (2016). "The impact of study abroad experiences on vocational identity among college students," Frontiers: The Interdisciplinary Journal of Study Abroad, 27(April), 70–84.
Luo, J. & Jamieson-Drake, D. (2015). "Predictors of study abroad intent, participation, and college outcomes," Research in Higher Education, 56(1), 29–56.
Citation
Edwards, K.,
Strick, S.,
& Ellenberger, T.
(2021). Using 360′ videos to provide cultural immersion in virtual study abroad courses. In A. deNoyelles, A. Albrecht, S. Bauer, & S. Wyatt (Eds.),
Teaching Online Pedagogical Repository
. Orlando, FL: University of Central Florida Center for Distributed Learning.
https://topr.online.ucf.edu/using-360-videos-to-provide-cultural-immersion-in-virtual-study-abroad-courses/
.
Post Revisions:
June 24, 2021 @ 14:56:21 [Current Revision]