Tags: Content, Discussions, Reflection, Synthesis, Word Cloud, Wordle
Description
Word clouds are those fun, visually interesting combinations of words that summarize a topic or idea. The size of each word in relation to the whole word cloud indicates that word's prominence. (Typically, the larger the word, the more frequently it appeared in the source text. Word clouds can be seen in everyday life everywhere from USA Today to Facebook.
However, word clouds can also be used to promote reflection on and synthesis of course content. Here are some possible examples: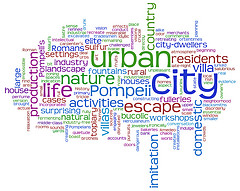 Syllabus review: Have students submit a word cloud to a discussion forum posting the top ten key concepts from a reading assignment.
Markers: Check understandings of key issues, policies, theories, etc. from the first three weeks of class, or mid-semester, etc. by asking students to create word clouds. This lets you know if the students are grasping course concepts.
Quiz: A fun quiz alternative is to have students post key terms, concepts, ideas, etc. related to a course topic. Each student should prepare ten to twelve entries. Then, have students work together synchronously or asynchronously in groups or as a class to create word clouds in which they synthesize their knowledge. This is non-threatening and many students enjoy the variation.
Numerous web-based word cloud-creation tools exist, but Wordle.com is most often associated with word cloud creation (McGee, 2015).
Link to example artifact(s)
Link to scholarly reference(s)
Hamm, S. (2011). Using word clouds for reflection and discussion. Journal of Teaching Theology and Religion, 14 (2). doi: 10.1111/j.1467-9647.2011.00692.x
McGee, M. (2015). 9 word cloud generators that aren't wordle. Edudemic. Retrieved from https://blog.polleverywhere.com/best-word-cloud-generator/
Skiba, Diane J. (2013). Bloom's digital taxonomy and word clouds. Nursing Education Perspectives, 34 (4): 277-80. http://dx.doi.org/10.5480/1536-5026-34.4.277
Stetz, Thomas A. (2012). Personnel psychology in 75 Words (or less): A word cloud example. TIP: The Industrial-Organizational Psychologist. 49(4): 27-35. Retrieved from http://www.siop.org/tip/apr12/04stetz.aspx
Citation
Scott Hamm (2014). Use word clouds for reflection and synthesis. In Chen, B., deNoyelles, A., & Thompson, K. (Eds.),
Teaching Online Pedagogical Repository
. Orlando, FL: University of Central Florida Center for Distributed Learning. Retrieved July 11, 2020 from
https://topr.online.ucf.edu/use-word-clouds-for-reflection-and-synthesis/
.
Post Revisions:
August 2, 2019 @ 18:30:46 [Current Revision]
[Total: 2 Average: 2.5/5]