Tags: Accessibility, Content, Copyright, Creative Commons, Image
Description
Photographs and other images can convey concepts effectively and provide visual interest in course materials. However, there are copyright, intellectual property, and accessibility issues to consider in order to use images appropriately. For instance, "copyright law [is] a potential liability for both the faculty member and the institution" (Diaz, Mitrano, & Chrisoph, 2009, p. 9).
Instructor Testimony I
Instructor: Dr. Todd Brenneman
Course Title: REL2300 World Religions
The World Religions course at UCF introduces students to the beliefs and practices of many different religious traditions. To teach this in an online or distributed setting requires the transferring of a lot of information. In creating my modules, they tend to be text heavy. One reason for using images is pragmatic—an attempt to break up the text with some images. In addition, religion is not just about beliefs or texts; it is also about what people do. Images help show students certain aspects of religion/religious practice that may be difficult to understand in words only.
Yet, it is also important to be mindful of two important issues: accessibility and copyright. First, for accessibility issues, using Microsoft Word 2010 with the module template from the Center for Distributed Learning is very helpful in making sure the module is accessible, but Microsoft Word also has other tools to make images accessible. Once an image is inserted into a Microsoft Word file, the user can right click, select "Format Picture," and then choose the Alt Text tab and type in alternative text that would be read by a screen reader. Very simple way to make images accessible.
Second, regarding copyright issues, a good way to search for usable images (if an instructor does not have time to get the copyright holder's permission), is to use http://creativecommons.org. By searching through Creative Commons one can find images that are licensed for distribution and reuse (frequently with certain restrictions). Oftentimes, the only restriction that applies for use in a course is attribution. Here too Microsoft Word 2010 can be helpful as well. When an usable image is inserted into a Word document, select the picture and then click references. There should be an option for "Insert Caption." In the caption you can describe what is in the picture as well as saying what website it is from, who the copyright holder is, and note that is used under the guidelines of a Creative Commons licenses. Such a caption might read like the following: "Angkor Wat Temple from Wikimedia Commons user Gisling under Creative Commons License." Obviously this only refers to images that are either licensed or in the public domain. For other images, one would need to get direct permission from the copyright holder to use it.
Instructor Testimony II
Dr. Kevin Yee recommends http://www.compfight.com a website that makes it easy to search for images for your online course. "This website works a bit like Google Images. However, rather than search through Google, it searches the photos uploaded to Flickr.com, and a setting at the top can be clicked so that the results will be narrowed to show ONLY those images which have a Creative Commons license. Thus, with a single click, instructors can find class-ready pictures for download (you may have to click on Actions/View-All-Sizes before the image can be right-clicked and saved). It is customary to state "Image courtesy of Flickr user [username]" in the photo's caption or ALT text, seen when a mouse hovers over the picture."
As an alternative, http://wylio.com offers similar functionality to Comp Fight but also automates the Creative Commons attribution process by providing embed code containing the appropriate image owner and source URL information. In addition, you may resize the image prior to obtaining the image embed code. Wylio currently requires authentication with a free Google account in order to obtain embed code, but images may be searched without logging in.
Link to example artifact(s)
This is an image illustration from Dr. Brenneman's World Religion course: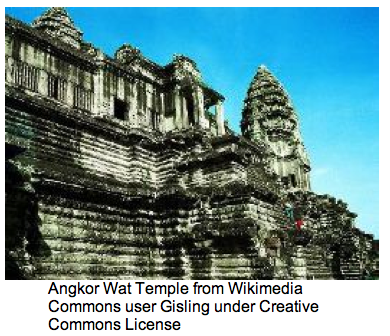 Following is an example of an image obtained and cited via http://wylio.com: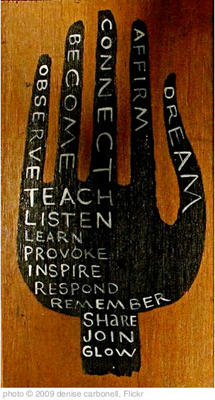 Click to view more info about 'teach & listen' or find free 'teaching' pictures via Wylio
Link to scholarly reference(s)
Center for Distributed Learning (2012a). What is accessibility. Teaching Online Website. https://cdl.ucf.edu/teach/accessibility/
Center for Distributed Learning (2012b). Document formatting guidelines. Teaching Online Website.
https://cdl.ucf.edu/teach-online/develop/content/word/images/
Diaz, V., Mitrano, T., & Christoph, K. "Copyright, Fair Use, and Teaching and Learning Innovation in a Web 2.0 World" (Research Bulletin, Issue 15). Boulder, CO: EDUCAUSE Center for Applied Research, 2009. https://library.educause.edu/resources/2009/7/copyright-fair-use-and-teaching-and-learning-innovation-in-a-web-20-world
Citation
Chen, B.,
Brenneman, T.,
&
Yee, K.
(2014). Use images while considering accessibility and copyright to illustrate online course content. In B. Chen & K. Thompson (Eds.),
Teaching Online Pedagogical Repository
. Orlando, FL: University of Central Florida Center for Distributed Learning.
https://topr.online.ucf.edu/use-images-with-the-considerations-of-accessibility-and-copyright-to-illustrate-online-course-content/
.
Post Revisions:
August 17, 2020 @ 14:57:40 [Current Revision]